CELESTA RISE WINS ''THE BEST MID END CONDO DEVELOPMENT'' AT THE PROPERTYGURU VIETNAM PROPERTY AWARDS 2021
Ho Chi Minh City, 29 November 2021 – At the gala event held on 26 November 2021, Celesta Rise was named the Best Mid End Condo Development (HCMC).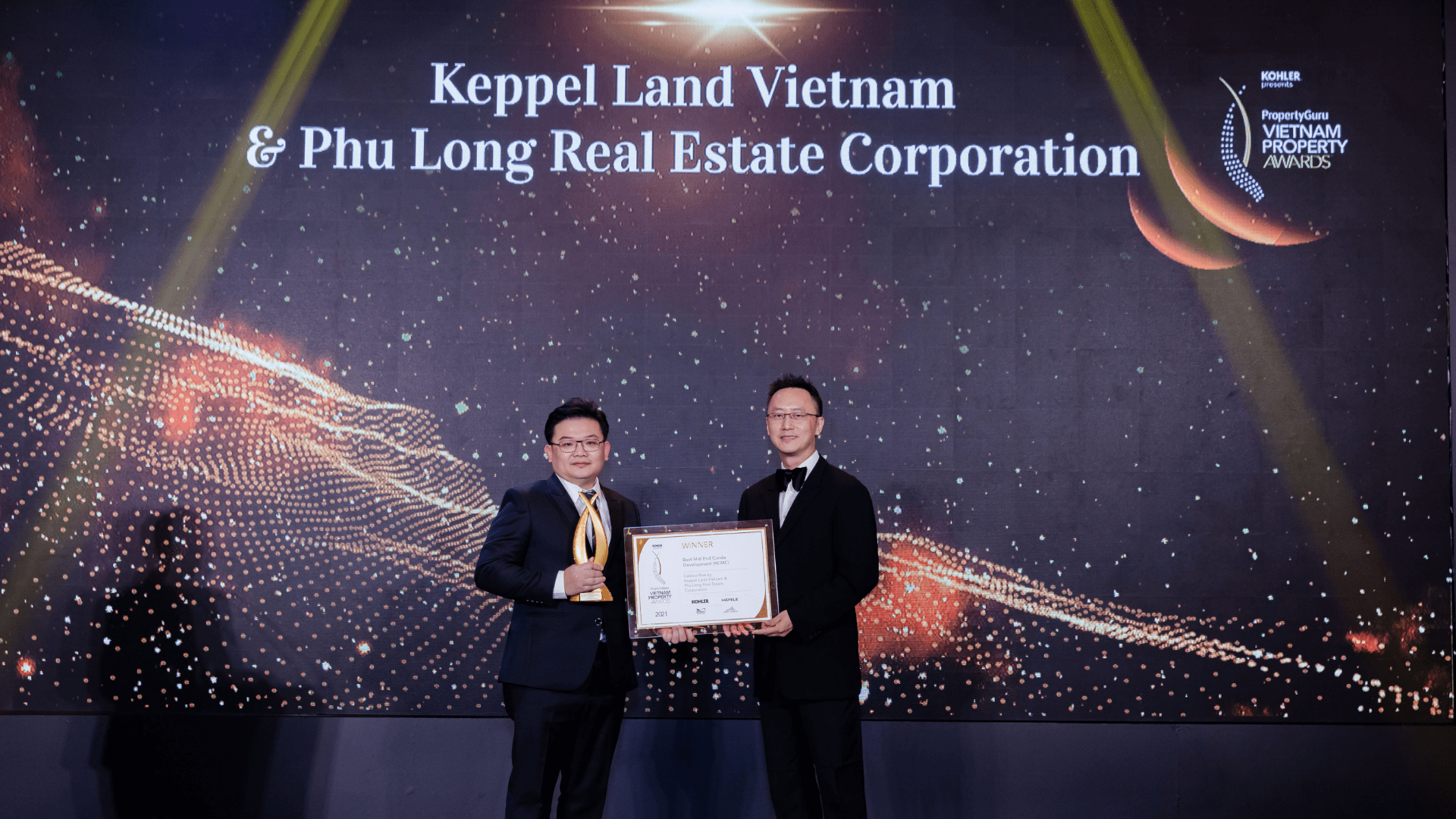 Celesta Rise, which won Best Mid End Condo Development (HCMC), is a quality residential project jointly developed by Keppel Land and Phu Long. Celesta Rise is also a project with several "firsts". These include a pet park, three 50-metre swimming pools, 600 metres of jogging trails, Saigon South's largest clubhouse, and many others.
As a sustainable development, Celesta Rise is built according to the requirements of the Building and Construction Authority of Singapore's Green Mark Gold standard. With its low construction density, cross-ventilation layouts and verdant greenery, this project promises to accord residents with all the benefits of living in the heart of Saigon South.
This project is not only designed to meet homeowners' growing demand for quality homes, but is also well-positioned for investors to enjoy potential upside in capital appreciation and rental yields.
Now in its seventh year, the PropertyGuru Vietnam Property Awards is a part of the regional PropertyGuru Asia Property Awards, the region's largest and most respected real estate awards programme. The Awards celebrate the best projects, designs and innovations in the industry for the year.
About Keppel Land
Keppel Land is a wholly-owned subsidiary of Keppel Corporation, a Singapore flagship multinational company, which provides solutions for sustainable urbanisation, focusing on energy & environment, urban development, connectivity and asset management.
Keppel Land delivers innovative and multi-faceted urban space solutions that enrich people and communities. Its sterling portfolio includes award-winning residential developments, investment-grade commercial properties and integrated townships. It is geographically diversified in Asia, with China, Singapore and Vietnam as its key markets, while it continues to scale up in other markets such as India and Indonesia.
In Vietnam, Keppel Land is a pioneer and one of the largest foreign real estate investors with a quality portfolio mainly in Ho Chi Minh City, including Grade A offices, residential properties, retail malls, integrated townships and award-winning serviced apartments.
About Phu Long
Established in 2005, Phu Long's mission is to construct architectures and living spaces that are timeless, comfortable, cultured, secured, and environmentally friendly.
As a real estate corporation operating under the global sustainable business standard, Phu Long continues to expand its field of business in the development of smart cities and premium hospitality in key cities as well as famous tourist sites in Vietnam such as Ha Noi, Ho Chi Minh, Nha Trang, Da Nang, Phu Quoc.
Phu Long is committed to being the companion of the customers, building and developing products that meet the best standards to ensure each project always adds value to the customer's property investments through international management methods, and always assuming the highest responsibility towards the community on environmental issues and social security.